Our heart: the hotel lounge
Here you can really relax. Enjoy a glass of good wine, chat with other guests, read a mystery novel by the cosy warm tiled stove or simply listen to the crackling of the fire. Maybe play a board game. The lounge really is the heart of the hotel – a room for you.
Feeling good in the wellness area
In our new building Goggwäärgji we have implemented a high-quality, wheelchair-accessible wellness area. The impressive glass construction with cubic windows will amaze you. After you have enjoyed the pleasant warmth in one of our three saunas (Finnish, Bio and Cocoon), a comfortable lounger awaits you in the relaxation room or you can cool off in the outdoor area. If you like it bubbly, you will surely like our fresh water whirlpool (can be booked additionally). Here you will enjoy a pleasantly warm bathing experience with bubble function and homemade aromatic bath salts. The natural aromas are free of chemicals, as it is drinking water. Enjoy the moment and let your eyes wander into the Blinnental. You can also choose from a variety of massages. For our house guests the wellness area is included (except fresh water whirlpool CHF 59.00 for 1 – 2 persons incl. a glass of Valais sparkling wine)
Opening hours
June to November on request, it takes 30 minutes to heat the saunas
December to April: 16.00 to 20.00 o'clock, earlier on demand.
Other times are possible on request.
Seasonal or weather-related changes are reserved.
Bring your own bathing shoes! If you forgot them or want new ones: we sell flip flops from "RE use me" at the reception for CHF 6.00.
Please note the rules in the indoor area:
– Admission only with slippers
– Obligatory shower before using the sauna
– Nude zone in the saunas
– Children are allowed from 12 years old
– Quiet zone
– Do not occupy deckchairs with bath towel
External guests
We are happy to welcome external guests in our sauna area by appointment. The number of places is limited.
Single admission
June to November 14.00 – 19.30 hrs
December to April 10.00 – 14.00 hrs & 19.30 – 22.00 hrs
CHF 49.00 per person (including sauna towels and bathrobe)
On request, admission according to capacity
Massages
Choose your favorite from various massages: classic, with aroma or precious stones – our masseuses Michèle, Svenja, Zsuzsanna and Barbora are looking forward to pampering you.
Feel like a massage or a whirlpool session?
Whirlpool with hot freshwater
Enjoy an exclusive and private time out! In our private whirlpool with warm fresh water and homemade aromatic bath salts you will enjoy a relaxing and bubbling warm bath with a glass of Valais sparkling wine for about 25 minutes. View of the Stalen Chapel included.
You lie almost weightless in the gently bubbling warm water. Complete relaxation, because the luxurious bath relieves the body of stress and tension and lets the soul come to rest. Let your soul dangle and feel how the everyday life moves into the far distance.
Price:
CHF 59.00 (1 – 2 persons) incl. 2 glasses of Valais sparkling wine.
Culinary delights
On request you can enjoy a delicious 4-course evening menu for CHF 54.00 per person after the sauna.
In the hotel parlor you can enjoy an aperitif before the meal and / or a Schlummi after the meal.
Creative and successful meetings
Our creative space is ideal for a successful conference or a stimulating seminar. The modern infrastructure helps to promote success, and the beautiful mountains, the ambience and a suitable leisure program promote the participant's creativity and satisfaction. You have the choice of different
packages.
More free space for you
The open space is not only a perfect playroom for your children. Adults also like to spend some social hours here. You can find a ping-pong table, play table football or watch TV.
There is also a small library at your disposal.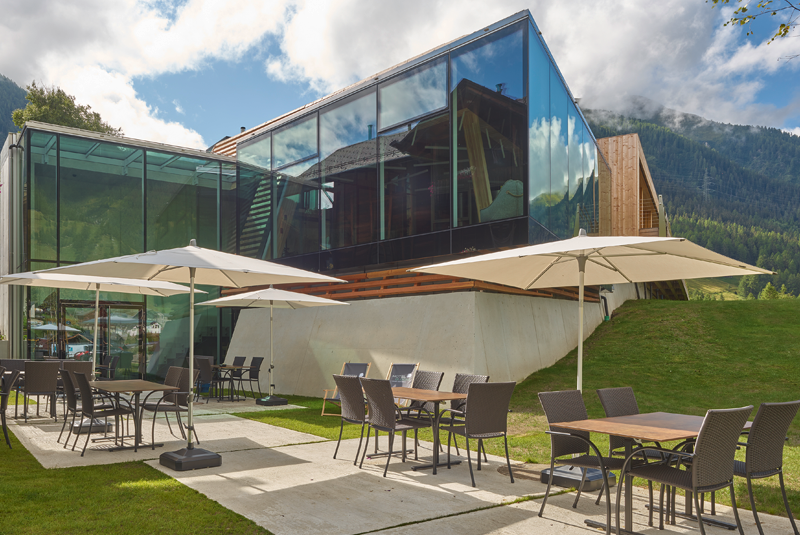 Stunning views from the terrace
Our terrace is a perfect place to relax. There are comfy chairs, sun loungers, a small children's playground, and a herb garden. In addition, there is an outdoor recreation area with a barefoot path.
Our house newspaper
The older copies of our house newspaper are a veritable treasure trove of great stories about the Hotel Glocke, the Goms valley and canton Wallis.