Be part of it – Our events
We regularly offer you interesting events to make your vacations in Goms unforgettable. These include, for example, concerts or readings in the evening. You can buy tickets online under the link.
Our Gloggä Culture Events are always accompanied by a seasonal and freshly prepared 4-course dinner (Culinary & Culture).
Our next Gloggä Culture Events:
June 14, 2024: Sound mosaic & own creations with Stefanie Ammann & Jonas Imhof.
November 8, 2024: Valais satire "Wort + Totschlag" with Johannes R. Millius & Daniel Blatter.
November 22, 2024: Concert with Sam Gruber: Unplugged Duo with Ephraim Salzmann.
Aabäsizz with Gioco & Sebastian
Once a week, senior host Bernhard "Gioco" tells mysterious stories of good and evil spirits. Gioco and Sebastian will accompany the Zelletä, Luginä and Boozä (creepy) stories with dulcimer sounds, guitar music, songs and poems set to music. The whole thing will be performed in the traditional Valais dialect and is the perfect combination of enjoyment, culture and history. The Aabäsizz takes place once a week and is included for our hotel guests.
Thursdays:
07 December 2023 to 28 March 2024
Time:
18.30 dinner, followed by Aabäsizz at 20.30 in the creative room.
Offer for external guests
The perfect combination of pleasure and stories
4-course evening menu followed by Aabäsizz
Time: 18.30 Dinner, Aabäsizz 21.00 – approx. 22.00
Price: CHF 64.00 per person
Reservation: by phone +41 27 974 25 50 or buy ticket online
Offer for external guests
The perfect combination of pleasure and stories
4-course evening menu followed by Aabäsizz
Time: 18.30 Dinner, Aabäsizz 21.00 – approx. 22.00
Price: CHF 64.00 per person
Reservation: by phone +41 27 974 25 50 or buy ticket online
Sakupoli
Saturday, March 31, 2024
Fabulous culinary poetic and li(e)der evening.
Enjoy an exquisite dinner at the Glocke and experience the Bächitroubadours as storytellers, poets, singers and entertainers, supported, complemented and kept in check by the Glocke team.
A firework of the senses!
Price
CHF 120.00 with 5-course dinner, aperitif and entertainment
CHF 95.00 with additional overnight stay in a Gloggä single room with breakfast
CHF 170.00 with additional overnight stay in a Gloggä room with breakfast
CHF 240.00 with additional overnight stay in Goggwäärgji room with breakfast
CHF 270.00 with additional overnight stay in Panorama Goggwäärgji room with breakfast
Registration
Here you'll find online-tickets.
Hotel Glocke: +41 (0)27 974 25 50
Start at 6.30 p.m. with the aperitif.
Open for out-of-town guests.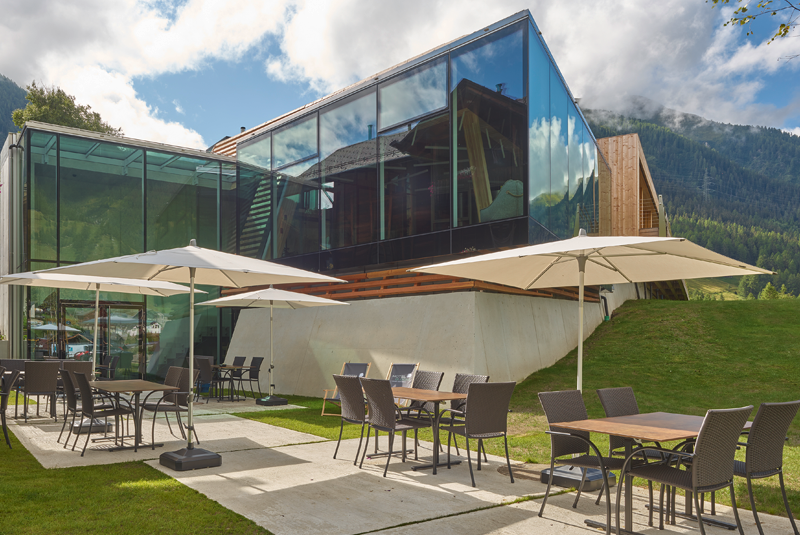 Our creative & regenerative hotel packages
Throughout the year you can enrich your stay with a variety of courses. We put special emphasis on holistic and regenerative offers such as Yoga lessons, Pilates, Shibashi lessons, music weeks, painting studios or Feldenkrais courses. Have a look at the whole overview.
Rent cross-country skiing equipment incl. delivery to the hotel
at our partner cross-country ski school Ulrichen – Daniel Garbely.
Since there is no sports store in Reckingen, we offer the guests of the Hotel Glocke an exclusive delivery service for rental equipment "cross-country skiing". You can order your rental equipment "Skating" or "Classic" before your stay via our booking platform and pay by credit card. We will bring you the ordered equipment to Hotel Glocke.
If you prefer to try on several boot sizes, we recommend that you try them on at our cross-country ski school in Ulrichen. If you arrive via the Furka car transport, you will pass Ulrichen. Ulrichen is about 10 minutes by car from the Hotel Glocke.
Here you'll find some special packages.
Rent cross-country skiing equipment incl. delivery to the hotel
Gommer Sport brings everything directly to Hotel Glocke. You can simply order the rental equipment you want from our partner Gommer Sport. On arrival, your cross-country skis, snowshoes, fatbike or airboards will be waiting for you in the ski room. Everything is collected again on departure. This gives you more time to enjoy the Goms winter – without any effort – as it should be on vacation (free delivery).
Here you can see an overview and prices.
Cross Country School Mathias Hischier
Cross country skiing – our passion. Experience the new dimension of feeling in cross-country skiing, classic or skating, gleitä instead of chrampfä!
Reserve a morning or afternoon to learn or improve this ease with joy. Share with us the fun of the flow. You can now book your cross-country skiing lessons online.
You can watch a motivation movie here.
Yoga
less is more – start the day well
Dates:
Every Tuesday morning in the creative room Hotel Glocke
08.00 – 09.15
Course guidance and registration:
As an independent RINGANA partner, I will be happy to advise you on your inner and outer well-being.
https://carole-buri.ringana.com/
Carole Buri T. 079 245 32 91 or Hotel Glocke T. 027 974 25 50
Price:
CHF 30.00 single lesson
CHF 250.00 10-lesson subscription
Free for hotel guests
Carole Buri
"In a world where you can be anything – be kind" Yoga for me is a constant reminder to be loving in thought, word and deed – with the world, fellow human beings and yourself. Both in my own practice and in teaching, it is important to me to harmonize body, mind and spirit. Yoga supports me in this process and helps me to find a good balance, which I also wish for my students. Yoga is first and foremost about being aware of your own state on the mat and feeling the energy. Being attentive to all participants is very important to me. My yoga style is a mixture of Vinyasa Flow and Hatha Yoga in combination with Pranayama, Meditation, Yoga Philosophy, Mindfulness Practice and Ayurveda. I completed the 230h Teacher Training in 2021/2022 at yogamind Switzerland.
Tanzbühni Winter 2023/2024
Dancing is the most beautiful form of fitness. Let your day end in a relaxed atmosphere with a workshop Salsa and / or Lindy Hop. Afterwards, during free dancing, you can make your music wishes.
Previous dance experience is not necessary. For single dancers or couples. Tanzbühni, the time out that unleashes and inspires.
Dates
Tuesdays:
21.11.23, 28.11.23, 12.12.23, 19.12.23,
02.01.24, 09.01.24, 16.01.24, 23.01.24, 30.01.24,
06.02.24, 13.02.24, 20.02.24, 27.02.24,
05.03.24, 12.03.24, 19.03.24, 26.03.24,
02.04.24, 09.04.24
Time:
20.00 – 21.00 workshop I 21.00 – 22.00 free dancing
Price:
CHF 35.00 workshop and free dancing I CHF 25.00 free dancing without workshop I Free of charge for hotel guests
Miscellaneous:
Parking spaces are available. Last public transport ride in direction Oberwald: 22.17 h, last public transport ride in direction Fiesch/Brig: 23.03 h
Info/contact:
www.tanz-freiheit.ch, 079 342 68 47
Registration:
Thank you for your registration at the reception, in person or by phone T. 027 974 25 50.
Feldenkrais® Winter 2023/2024
Selected Feldenkrais® lessons lead to lightness and well-being and improve flexibility, body awareness and coordination.
Feldenkrais® movement sequences tailored to the theme of balance are explored indoors in the warmth in a mindful, conscious and playful way on the ground.
Whether young or old, on skis or on foot, skating or classic, professional or beginner. Feldenkrais makes the difference:
Easier, lighter, better coordinated and balanced.
Course instructor: Sabine Indermühle
Certified Feldenkrais® Teacher SFV/EMR
sabineindermuehle@hotmail.com
www.feldyfit.jimdo.com
Dates: every Monday morning from 09.30 – 11.00 a.m. from January to April 8, 2024
Costs: CHF 40.00 per person I Free of charge for hotel guests
Single lesson Feldenkrais Functional Integration®: CHF 120.00 (with reclaim voucher for additional health insurance)
Pre-registration until Sunday 11:00 a.m.
+41 27 974 25 50
Here you can register online